The ideal state of the magnetic encoder is that the center of the rotating axis, permanent magnet and Hall element are in the same straight line, and this configuration is called share-end (Shaft End configuration). But even with the shaft-end configuration, there will actually be a slight installation error of "Shaft eccentricity".
Once shaft eccentricity occurs, the magnetic field strength detected by the Hall element will change, which will lead to errors in the angular accuracy of the detection. It is very difficult to completely eliminate shaft eccentricity. In the Share-end configuration, if the Hall element is installed in an area with a uniform transverse magnetic field, the input magnetic field strength will not change much even if there is Shaft eccentricity.
Therefore, compared with the Hall element that detects the longitudinal magnetic field strength, the Hall element that detects the transverse magnetic field strength can reduce the influence of the axis eccentricity on the Angle error.
Schematic structure of the magnetic encoder in Shaft-End configuration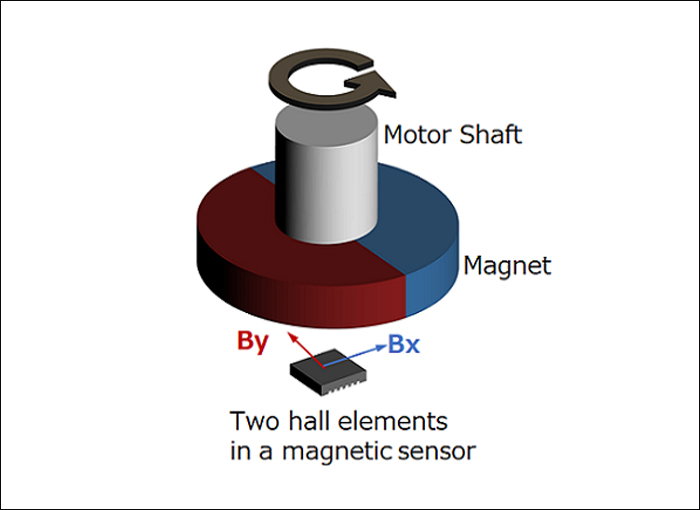 Sometimes, axially magnetized permanent magnets are chosen to weaken the side leakage of the magnetic field, so as to reduce the adverse impact of the side leakage of the magnetic field on the surrounding equipment, but compared with radially magnetized magnets, the magnetic field area of the axially magnetized magnet is smaller, and the Angle error caused by shaft eccentricity is relatively larger.
As mentioned above, the advantage of the Share-end configuration is that the combination of a radial magnetizing magnet and a Hall element that detects the transverse magnetic field strength makes it easy to implement an encoder that resists Shaft eccentricity.
Magnetic encoder magnet recommended;
Magnetic encoder multipole ring magnet 62 64 pole OD 34mm
Multipole double coil rubber magnetic ring for encoder D49x25x2mm
Hall magnet related introduction;
Can the hall sensor be oriented sideways towards the magnets?
Mounting angle of the Hall sensor which need install on the 10 pole
Which side of the magnet should be induced by the Hall sensor?