The height of a motor's magnets has a significant impact on its performance and effectiveness, and height adjustments can lead to innovations. Today, we're exploring the impacts and differences between high and low magnet heights on motors.
When the magnet height is high, two main results will significantly affect the operation of the motor. First, a magnet with a higher height provides more magnetic flux, and as a result, the motor will have a more powerful output. This means that the motor can produce more torque and cope with heavier loads. Secondly, a higher height magnet reduces reluctance, which increases the effectiveness and efficiency of the motor. This allows the motor to deliver more output power for the same power input, while reducing energy consumption and improving operating economy.
However, higher magnet heights can also present some challenges. First, taller magnets increase the overall size and weight of the motor. This limits the motor's use in space-constrained applications. Second, taller magnet heights can lead to uneven magnetic fields, which can affect the rotor balance and stability of the motor. This is especially important for motors operating at high speeds. In addition, high magnet heights may also present cost challenges, as larger magnets require more material and more complex processing.
The diagram shows arc-shaped ferrite magnetic steel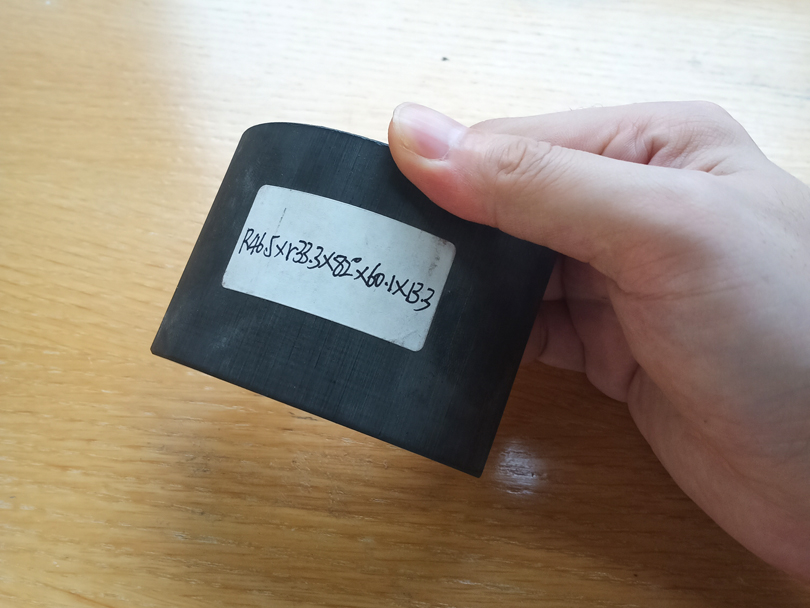 Contrary to high magnetic steel height, low magnetic steel height also has its advantages and challenges. The height of low magnetic steel will reduce the size and weight of the motor, making it suitable for more application scenarios. In addition, due to the smaller magnetic steel, the cost of the motor will also be reduced. However, the height of low magnetic steel may limit the output capacity and efficiency of the motor. A smaller magnetic steel will generate a smaller magnetic flux, thereby limiting the torque and power output of the motor. In addition, low magnetic steel height may lead to insufficient magnetic force, which can affect the starting performance and torque density of the motor.
In order to achieve innovation, engineers have been working hard to address the challenges posed by high and low magnetic steel heights. They attempt to find the optimal height of magnetic steel by studying and optimizing magnetic steel materials, magnetic field design, and motor structure. In addition, some new technologies have also been introduced, such as magnetic transfer and magnetorheological fluids, to provide more flexibility and adjustability.
In summary, the height of the magnetic steel in a motor has a significant impact on its performance and efficiency. High magnetic steel height can provide greater torque and power output, but may be limited by size, weight, and cost. On the contrary, low magnetic steel height can reduce the size and cost of the motor, but it also limits its output capacity and efficiency.
Similar articles;
Dc motor magnets is broken how can still turn?
Why is the motor rotor with magnetism?
Motor arc rotor magnets is too strong how to assemble more safe