Sweeper magnet ring, a kind of multi-pole ring magnet applied to sweeper steering wheel (left and right wheel) motor, mainly play the role of induction, for the safety of sweeping robots, Today Courage magnets small Fu mainly introduced its role in the sweeper, the market commonly used specifications and sizes, magnetization method, and product drawings.
First, the role of the Hall induction magnetic ring of the sweeping robot
The main role of the magnetic ring (injection molded ferrite) on the sweeping robot walking wheel is to control the motor motor speed and steering.
Second, what are the common specifications of the magnetic ring of the sweeper runner motor?
Currently on the market mass production of sweeper magnetic ring specifications are mainly these, respectively, D18 x 2.25 x 3.6mm, D18 x 1.96 x 3.6mm, D18 x 2.25 x 3, D18 x 2.25 x 3.2mm, the outer diameter of 18mm, the inner diameter and the height of the slightly different.
Third, sweeping robot induction magnetic ring magnetization direction and the number of poles
There are four main types: axial 8-pole, axial 16-pole, axial 24-pole, and axial 32-pole.
Schematic diagram of the number of magnetized poles of the ring magnet of the sweeping machine

Four, sweeping robot single-sided multi-pole magnetic ring magnet 2D drawing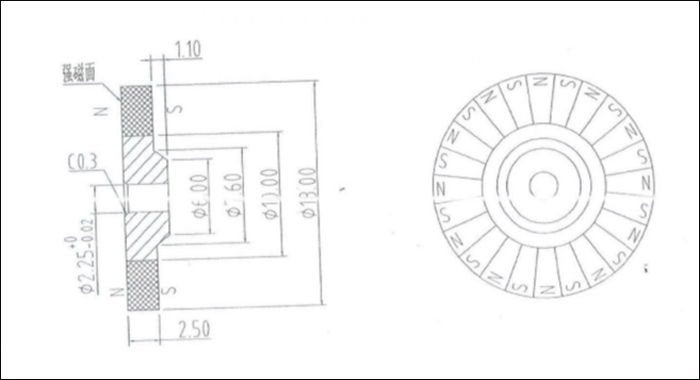 The above is about the smart sweeper magnet ring related to the introduction, for advice on magnet ring samples, prices, need other specifications of multi-pole magnets can contact us, do multi-pole ring magnets we are professional.
Recommendations for magnets related to sweeper applications;
Sweeper Virtual Wall Magnetic Stripe Width 25mm x 3mm thick