This is a square magnet with two screw hole, the material is rare earth neodymium. The specific size is 18mm in length and width, 5mm in thickness. This sample has two screw hole, and we also has square magnet with one hole at the center, rectangle magnet with one hole or two hole and the round magnet with hole. The hole can process at other place, like the side face or slant hole, these are all custom according to customer's demand.
Strong square magnet with two screw hole is generally used in the decoration, industry, equipment appliance, furniture, door and window locks and other place need work with screws and require magnetism. The size of hole you can custom it to fit your product, not only countersunk hole can be punched, but the through hole and T shaped hole also can be made.
Dimensions diagram/drawing of directional square neodymium magnet with 2 countersunk holes;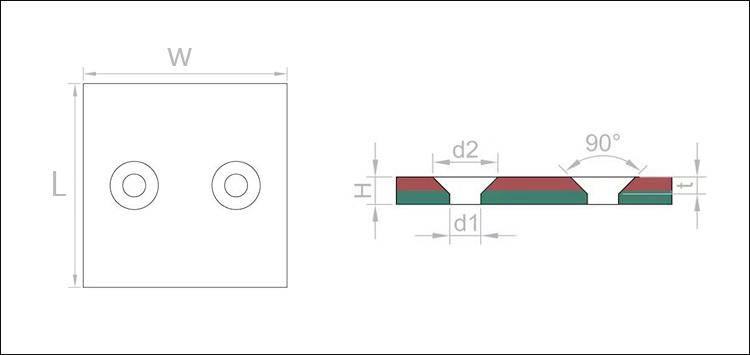 The use of magnets and screws will let you discover more effective product use, if you want to try it, please contact me online!