This is a ring sintered ferrite magnet with hole, also can be referred to as 50mm magnetic ring, the material is sintered strontium ferrite, the specific size is 50mm outer diameter, 39mm inner hole, 3.5mm thickness. This sample is radial(thickness) multi-pole magnetization, and it has 4-poles.
The larger the difference between the inner and outer diameter of the ferrite magnetic ring, the longer the axial direction, the greater the impedance. But make sure the inside diameter is tightly wrapped around the wire. Therefore, in order to obtain large attenuation, try to use a large volume of magnetic ring under the premise of ferrite ring inner diameter enclosing wire.

Magnetic direction of sintered ferrite ring magnet diagram(50 x 35 x 3.5):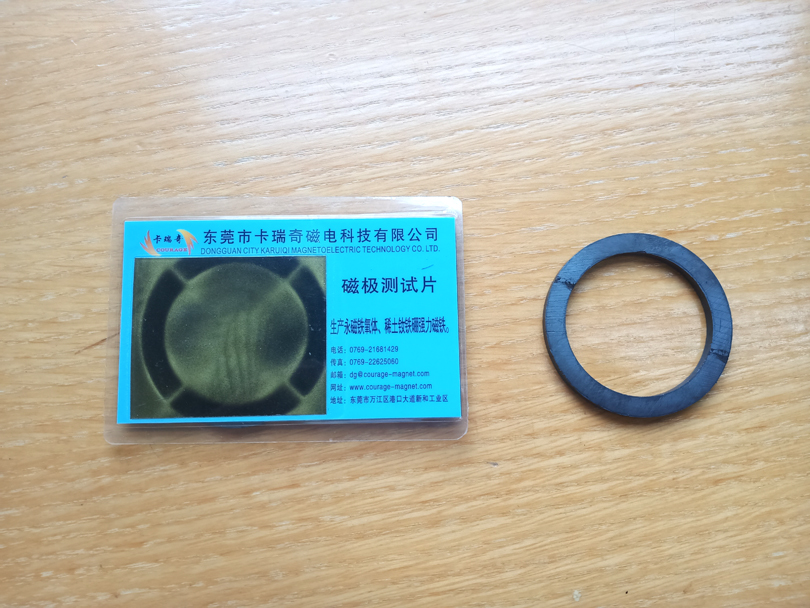 Are there other size of inner hole 50mm sintered ferrite rings?
Of course, we are the manufacturer, and you can customize it according to your need about specifications, surface coating color, magnetic charging direction, working temperature, etc. In terms of size, I need to explain that the tolerance of ferrite is ± 0.1mm.
Application of 50mm outer diameter ring magnet:
Can be widely used in all kinds of motors, household appliances, speakers, sensors, smart home, commodity packaging, electronic hardware products and water pumps and other places.
If necessary, please contact us with your inquiry!