Magnetic Liquid Traps efficiently remove ferrous tramp metal from liquid processing and conveying lines. The design forces liquids through a close grid of magnetic cartridges, ensuring constant protection in non-fibrous fluids. These traps offer reliable defense against tramp iron contamination, featuring high-energy, high-temperature neodymium magnets to capture even tough debris like work-hardened stainless steel fragments.
This is a thermal insulation permanent magnetic filter for liquid,with stainelss shell. The central layer can pass thought hot oil or hot water, when the liquid material is easy to cure at room temperature or lack of fluidity, it can maintain enough temperature, so as to maintain the fluidity of the material and ensure the smooth completion of permanent iron removal, all are also called heating permanent magnet liquid iron remover. This is a good solution to remove iron particles or contaminants from cholate, syrups, jams and chocolate. Therefore, it is also known as chocolate special permanent base iron remover, jam professional permanent magnet filter and so on.
1. Shell: SS304 or SS316 stainless steel
2. Surface treatment: polishing
3. Surface strength: 10000-13000GS
4. Maximum operating temperature: 80°C to 350°C
5. Fastening methos: Knukle, flange
6. Cleaning method: Ordinary type, easy to clean type.
7. Sealing material: Silicone, teflon, EPDM, PTFE.
8. Installation style: Flange quick connection screw.
9. Compressio: 6-16PA.
10. MOQ: 1 pc.
Technical parameter of pipeline iron remover: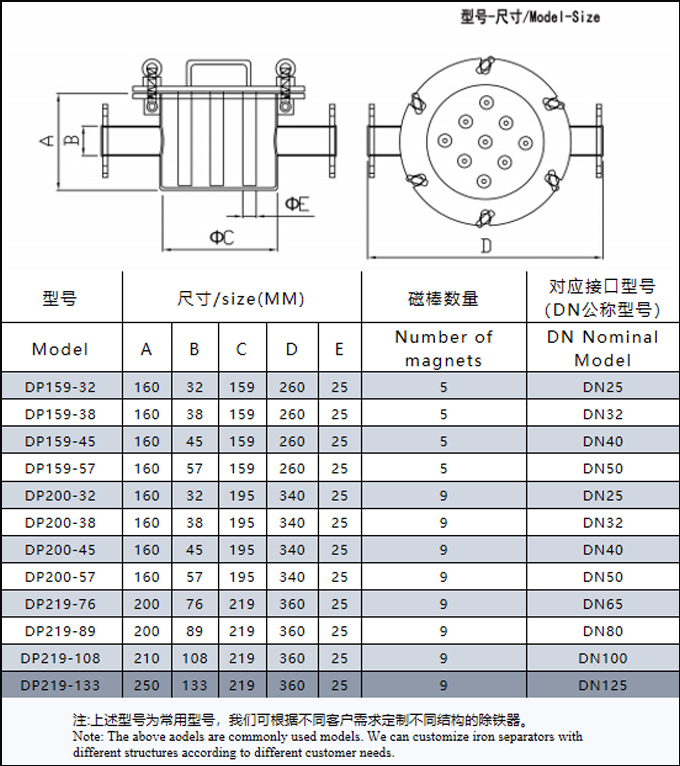 Note: The above models are commonly use models. We can customized iron seperators/ magnetic filter according to your needs.