Neodymium countersunk hole magnets are rare earth permanent magnets with a strew hole. most sizes need to be customized, The main purpose of the countersunk hole is to be used with screws to fixed the magnet in place, If you need us to quote rectangular neodymium magnets with countersunk holes, please provide drawings or specific sizes.
The magnets can be firmly fixed to almost any flat surface using screws that are the same size as the countersunk holes. Therefore, they are commonly used in the work industry and hardware accessories. Such as magnetic door latches, magnetic tool holders, cabinet closures, magnetic lights, etc. NdFeB countersunk hole magnets are perfect for office, craft, DIY, fridge in home and industry, including door locks, holding tools, hanging artwork on walls, etc.
Diagram of dimensions of rectangular neodymium magnet with 2 countersunk holes;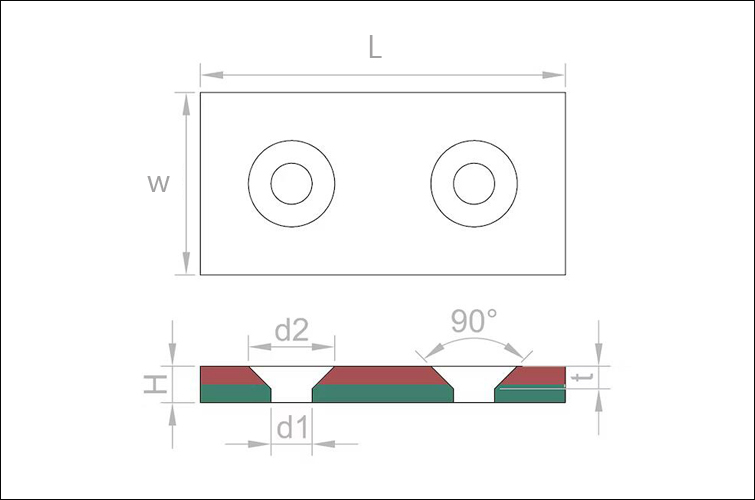 How to buy/purchase the right countersunk hole magnet?
1. If you use countersunk magnets to attract steel surface, choose N/S poles parallel to the countersunk hole.
2. If you use these countersunk magnets to attract each other, you need to buy parallel to half N/S and half S/N of the countersunk hole.
3. If you use these countersunk magnets to attract your own magnets, you will need to purchase the opposite poles to match them.