Neodymium magnet also known as NdFeB magnet, is a tetrathlon crystal system formed by neodymium, iron and boron (Nd2Fe14B). The advantage of NdFeb is cost-effective and has good machining characteristics. Its production process is powder metallurgy, and the working temperature can reach 200 degrees Celsius. And its hard texture, stable performance, has a good cost performance, so its application is extremely wide.
However, because of its strong chemical activity, it must be processed for surface coated. Neodymium magnets are widely used in motors, sensors, microphones, wind turbines, wind turbines, video recorders in hard disk drives, printers, switches, speakers, magnetic separators, magnetic hooks, magnetic head holder, magnetic head holder, daily use and other fields.
This 2 inch diameter large rare earth neodymium disc magnet with a diameter of 50mm and a thickness of 5mm. It is generally used for fishing, mechanical equipment or motor. Large thin neodymium round has very high magnetic energy product and connectivity.
2 inch diameter, 5mm thickness of round rare earth magnet sample display;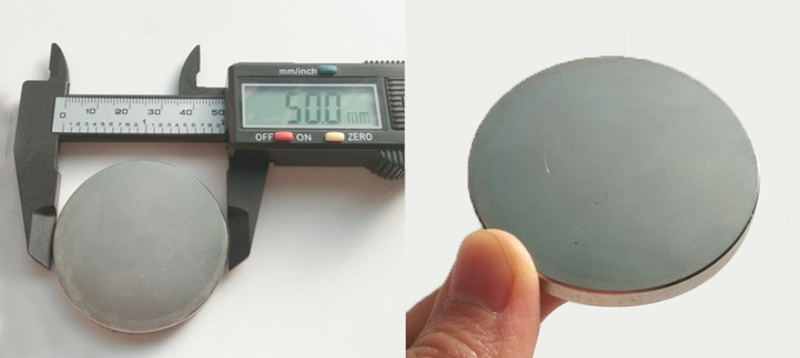 What is the maximum diameter length of Neodymium magnet rounds ?
The maximum Neodymium magnet rounds diameter can be 200mm, we have customers inquired about the diameter of 220mm magnet before. However, the unit price of large circular neodymium magnets is relative more expensive due to the large number of materials used and the complex production process.
Other 50mm diameter magnets;