Neodymium rectangular magnets with hole in the center is very common in the market. The little hole in the magnet middle is for easy installation, and some people also add screws to fix it. The Neodymium magnets with hole are widly used in our daily life, such as magnetic latch, magnetic tool holder, cabinet closure, magnetic lamp, etc. They are also very suitable for the home application, including door locks, fixed tools, art hanging on the wall, etc.

This is a neodymium rectangle magnet with the length 12mm, width 6mm and thickness 5mm (1/2" x 1/4" x 3/16"). On its side surface, the magnets have punched a round whole in the center. This magnet have very special design, normally our customer will choose to punch the hole on the most magnetic surface. This makes it easy to fix the magnet in one place, so obviously this buyer who came to us for a custom has special needs. For us, our team has many years of rich product knowledge, we will give you thost professional technical advice and offer a appropriate price to serve you, welcome to send us the inquiry and we will respond you ASAP.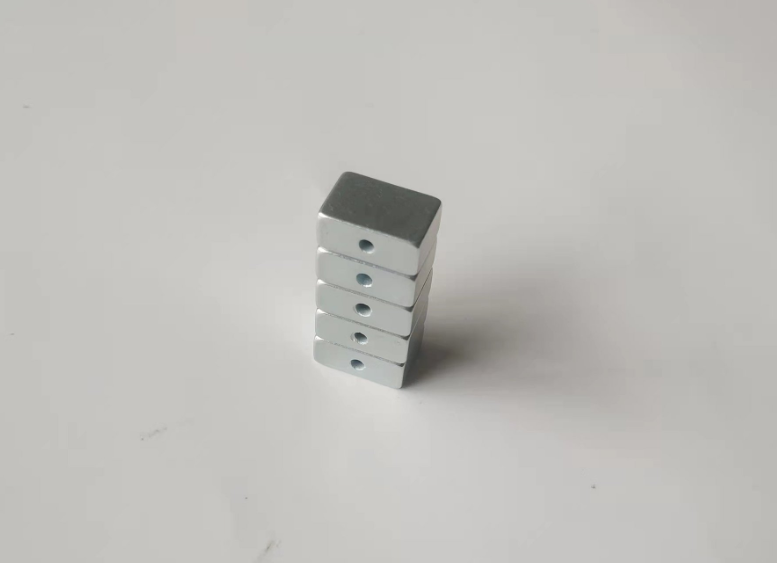 How to choose the correct Neodymium hole magnet?
1. If a magnet is used to attract the steel surface, select the N/S pole parallel to the hole.
2. If you use these magnets to attract each other, you need to buy the direction of the paired magnetization N/S and S/N magnet with hole.
3. If using these hole magnets to attract your own magnets, purchase opposite poles hole magnets to match them.