This is a big ring sintered ferrite magnets with hole, also can be referred to as 180mm magnetic ring, the material is sintered ferrite, the specific size is 180mm outer diameter, 85mm inner hole, 20mm thickness. The tolerance is ±0.1mm.
Are there other size of inner hole 180mm sintered ferrite rings?
Of course, we are the manufacturer, and you can customize magnets according to your need about specifications, surface coating color, magnetic charging direction, working temperature, etc.
In terms of size, I need to explain that the tolerance of ferrite is ± 0.1mm.
Exist ferrite samples specification -180mm outer hole
Ø180X75X22
Ø180X80X20
Ø180X85X20
Ø180X87X22
Ø180X89X20
Ø180X90X20
Ø180X90X25
Ø180X95X20
Ø180X55X15
Ø180X55X20
Ø180X55X25
Ø180X75X15
Ø180X75X20
Ø180X95X22
Ø180X95X24
Ø180X95X25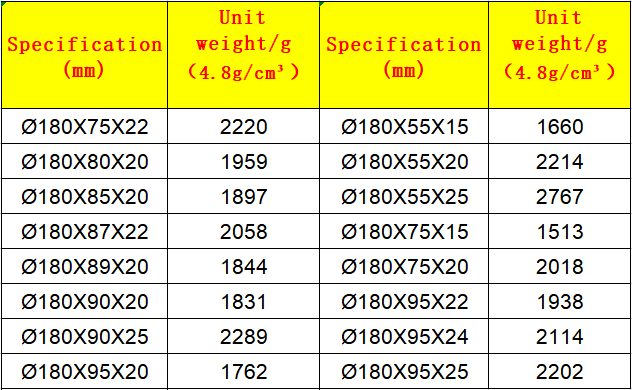 The advantages of sintered ferrite:
Compare with sintered Ndfeb , the advantage of sintered ferrite including:
1.Low cost, low price. Raw materials cost very cheap.
2.Good temperature stability. It can be used at temperatures less than 200 degrees Celsius.
3.Corrosion resistance
The way of 180mm outer diameter ring magnet:
It can be widely used in all kinds of automobile motors, home appliances, speakers, sensors, smart home, goods packaging, electronic hardware products, toys and water pumps and other places