This is square neodymium magnet with holes(screw holes), also known as a square counter-bore magnet. The product is made of sintered Ndfeb, which is a rare earth element. If you need ferrite as a material, we can make it, but magnetism of NdFeB will be better than ferrite. The specific size is 45mm in length and width, 9mm in thickness, 8mm in hole(1 3/4" x 1 3/4" x 3/8"). The tolerance is±0.05mm, the surfacing coating color is silvery white, the working temperature is 80-200℃。
The square countersunk magnets 45 x 45 x 9 mm actual size measurement: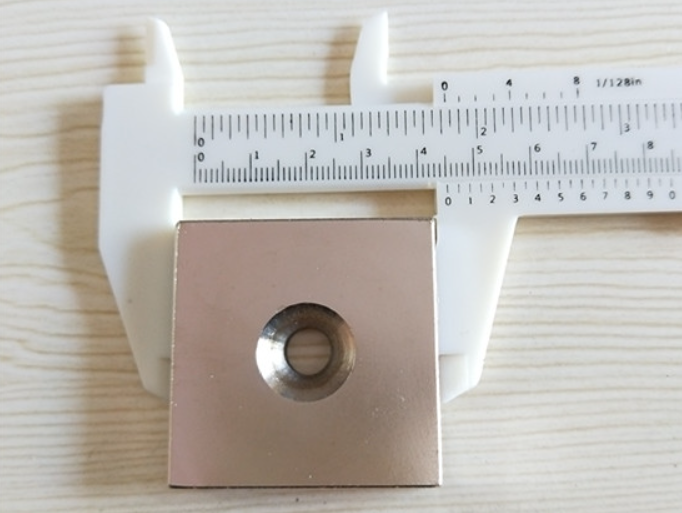 Can the square counter-bore magnets be customized according to the demand?
Of course, we are the manufacture, and we have our own processing line. For example, We can make multiple counter-bore holes if you need. We can customize the direction of magnetization, specification , material, working temperature, surface coating color and so on according to your requirements。
The way of the square screw hole magnet:
The magnets can be widely used in the decoration and hardware processing such as doors, windows, lamps, cabinet and laboratories, etc. It can increase the stability and adsorption of hardware products, the product in the industry can get more advantages.